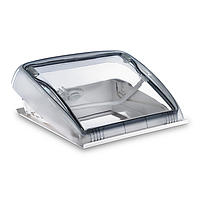 Roof Vent with Fly Screen and Blackout Blind, 400x400mm (Fitted)
Sold out
SUPPLY & FIT ONLY, PRICE SHOWN INCLUDES FITTING
Integral pleated blackout blind and flyscreen
Opens in three positions: Completely open, half open and bad weather position
Designed to prevent any water from coming in when opened in bad weather position
Opens to 50 Degree angle
Easily adjustable with an operating lever, secure locking in 1 position

Dome made of Double-Glazed unbreakable polycarbonate
Dustproof and easy to clean
Fitted price shown is assuming standard fitting to an unlined van with full access to the roof and that the roof is clean and free from moss etc.
Final price will be quoted on seeing the vehicle
There are various options to choose from depending on how you are going to fit out your van.....
Ceiling depth 25mm-42mm OR 43mm-60mm
Permanent Ventilation (allows a flow of air even when closed, recommended for caravans mainly as they have a tendancy to whistle at speed) or Sealed (only venting when physically open, better for vans)
Please note, NO roof vent is designed for fitting to a ribbed roof, they are all designed for a flat roof only, we have developed a way of fitting them which seems to work very well despite this, we have fitted hundreds over the years and, to our knowledge, none have leaked.
Please also note that we ONLY do new installs, we are not interested in trying to deal with leaks on an existing vent. We aim to get it right first time, every time you add a product to an existing leaking vent you are simply compounding the problem.